We're Always Ready to Rock - When You're R
eady to Cut Loose !  The Best in British Rock, 80's/90's Dance Hits, and Tasty High Energy Blues!  With 800+  Shows since 2005, We have a passion for Live Music & putting on a great show ~

For clubs, festivals, private parties, & corporate events, we provide a complete sound, lighting, and high energy stage show to make sure you have a Great time!...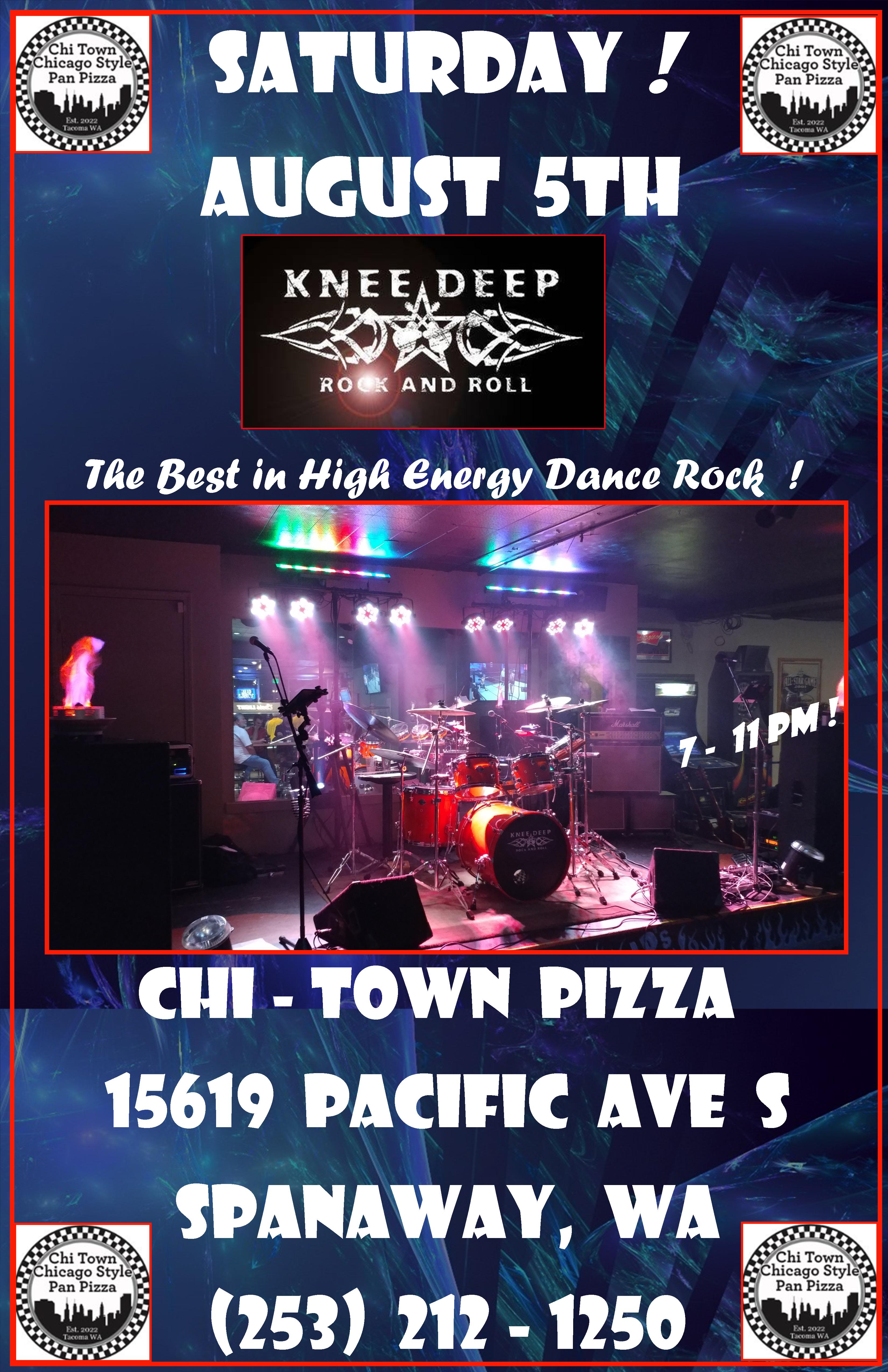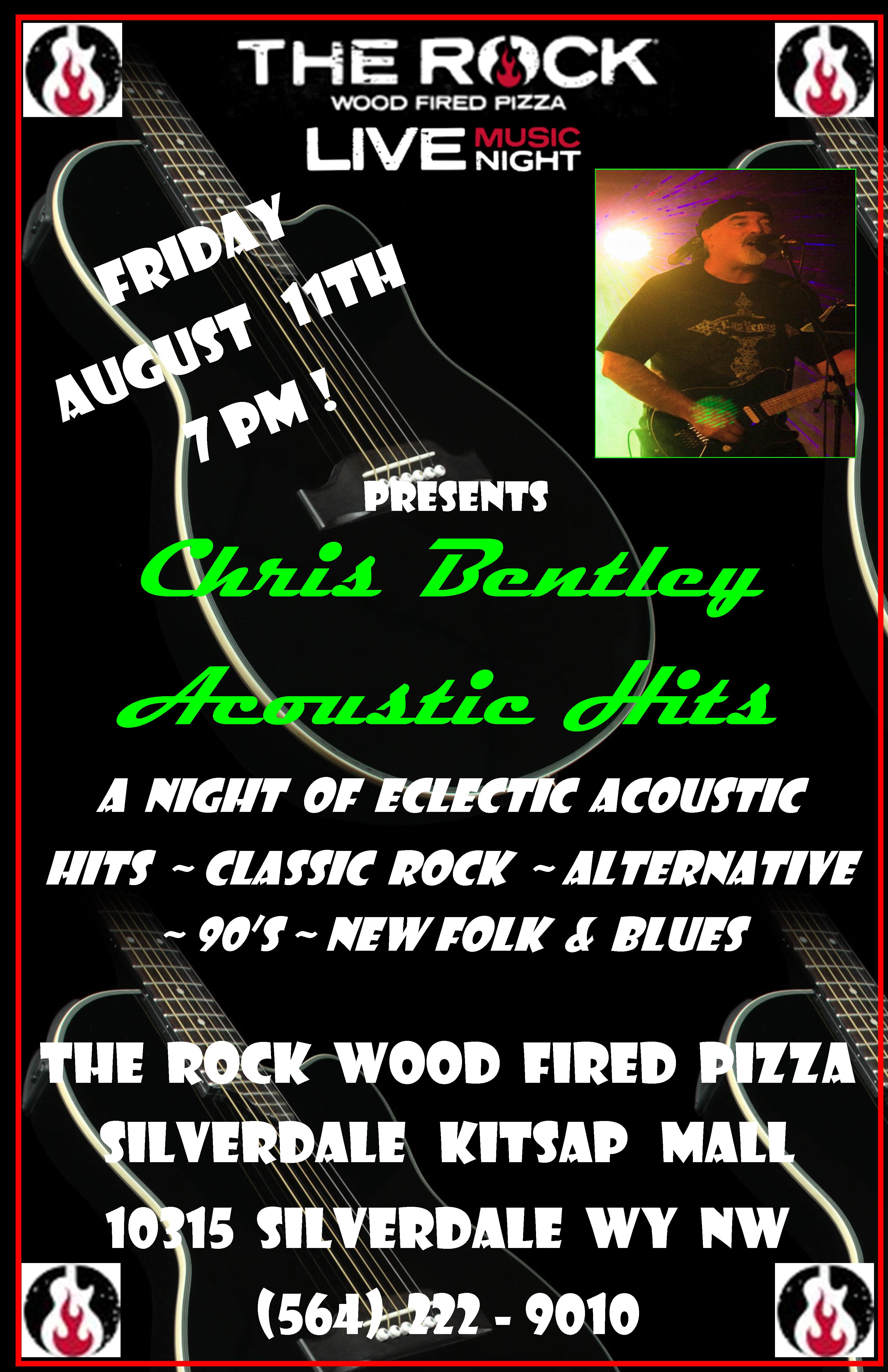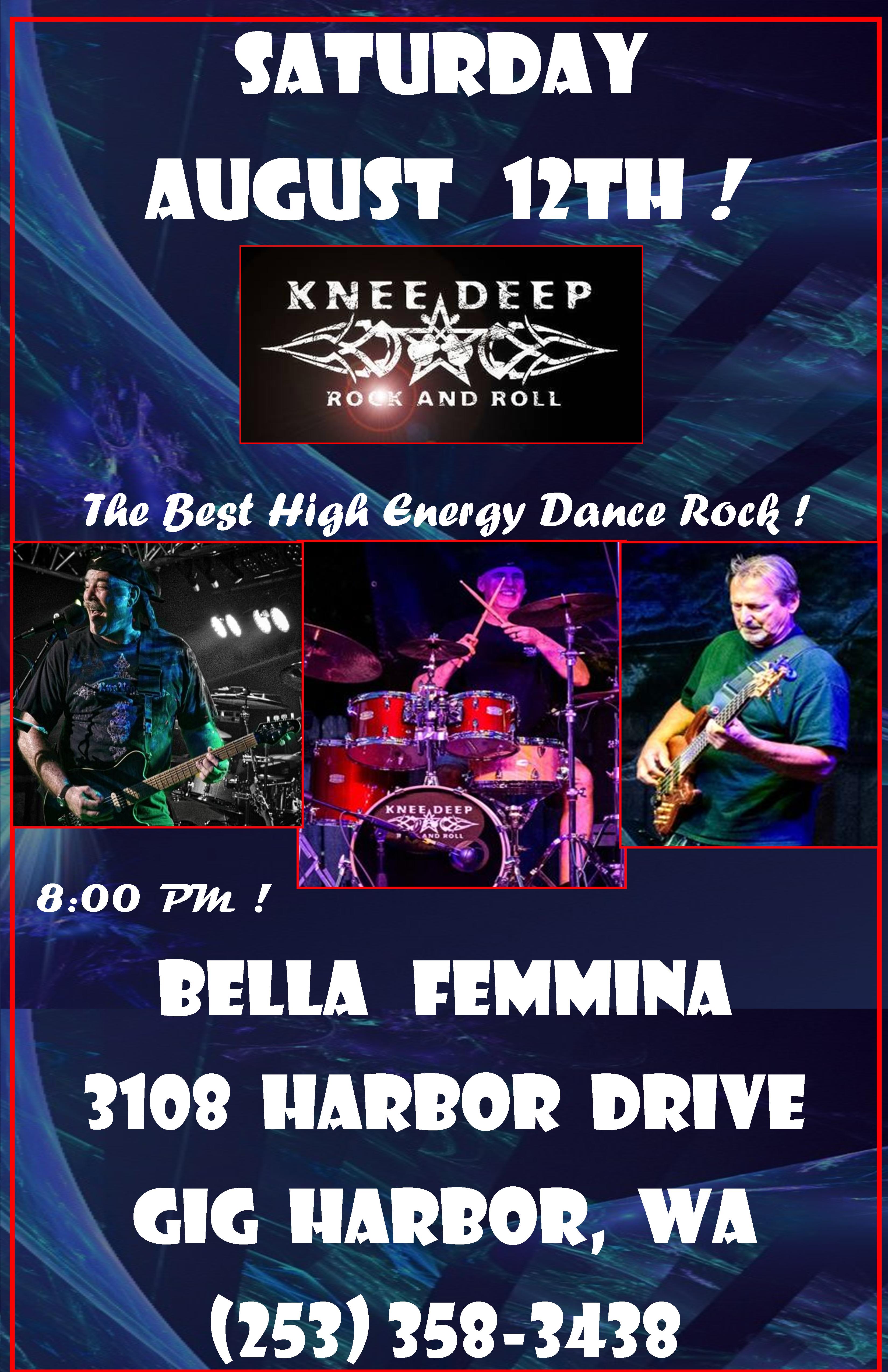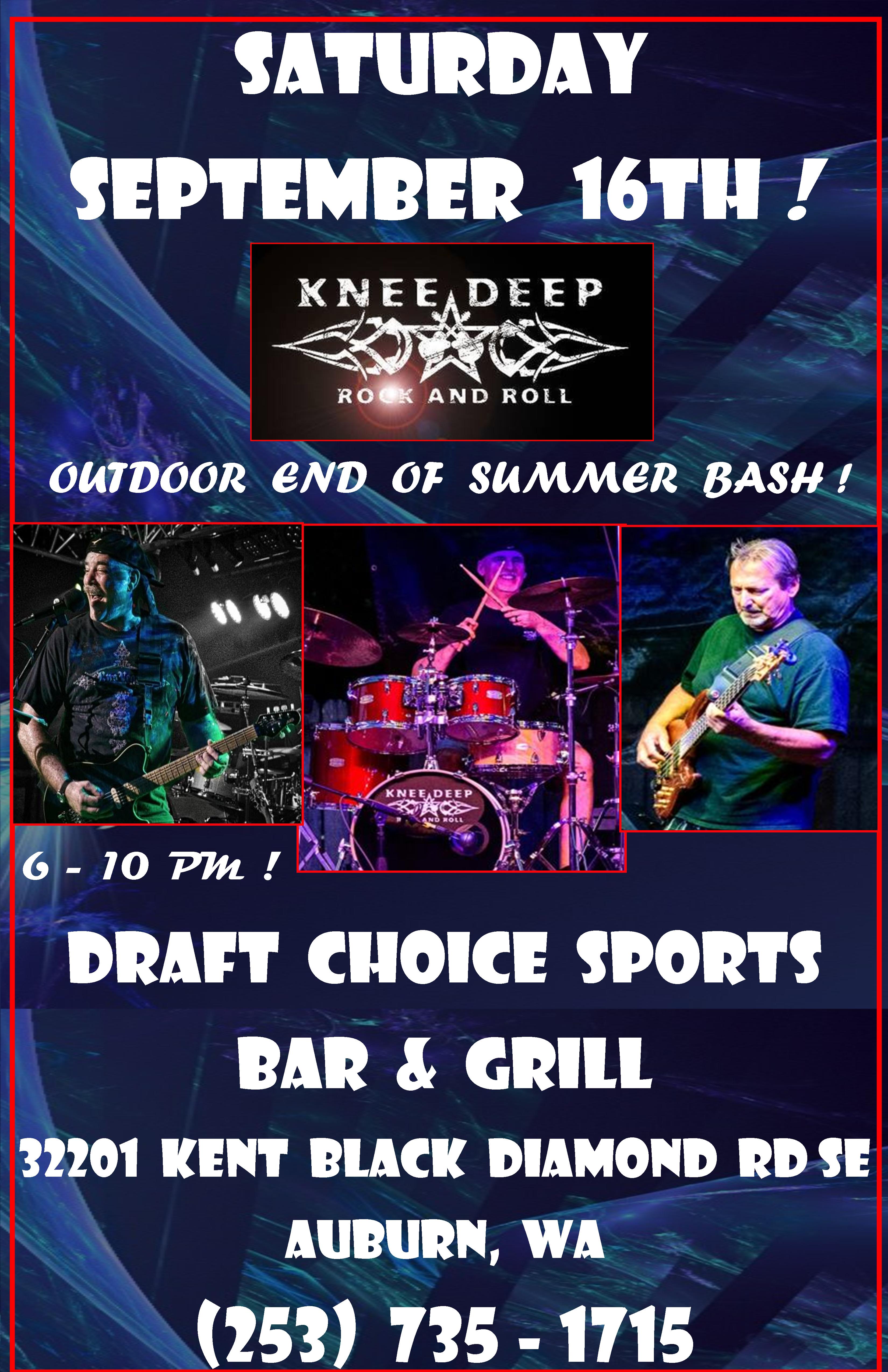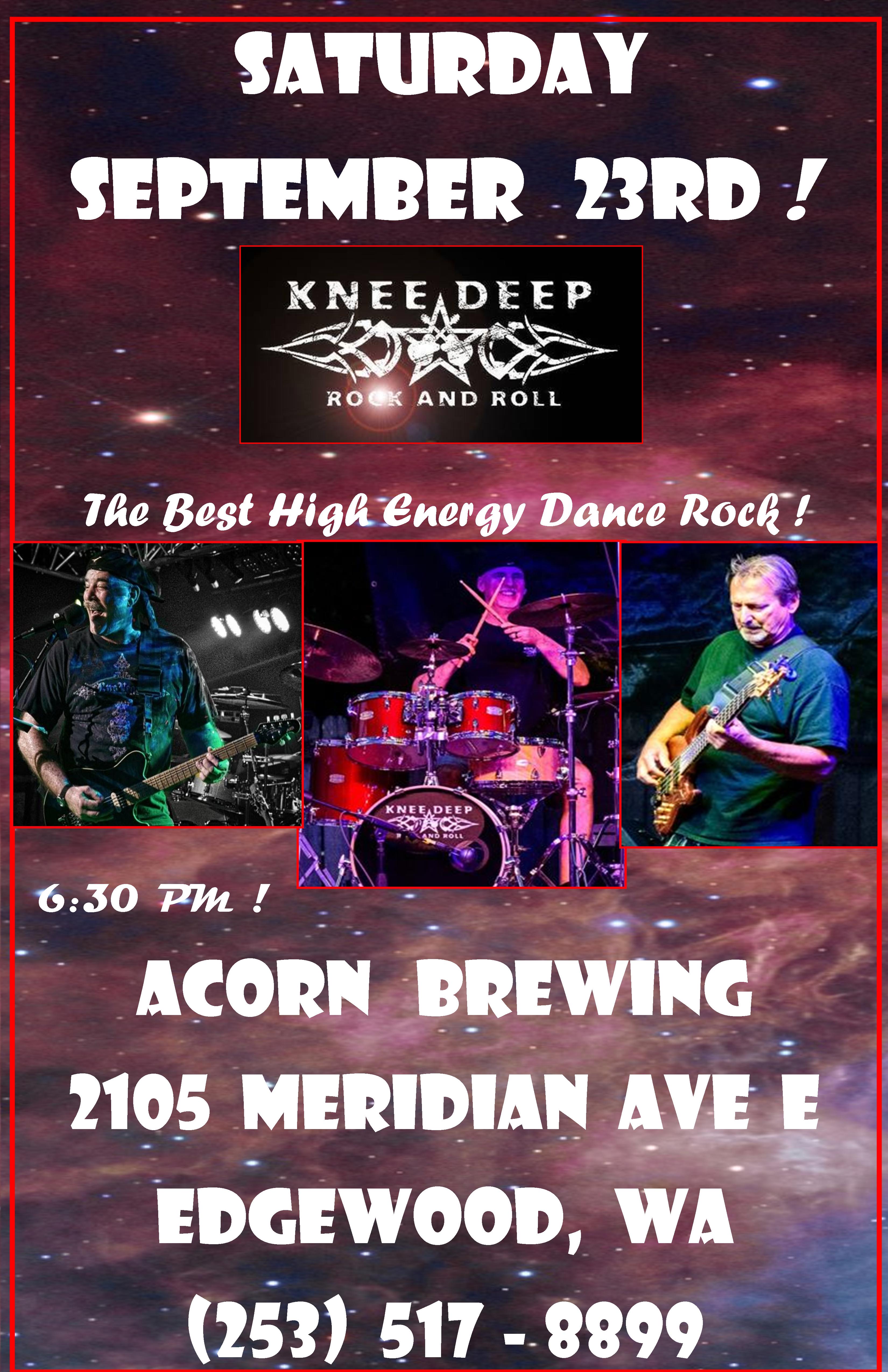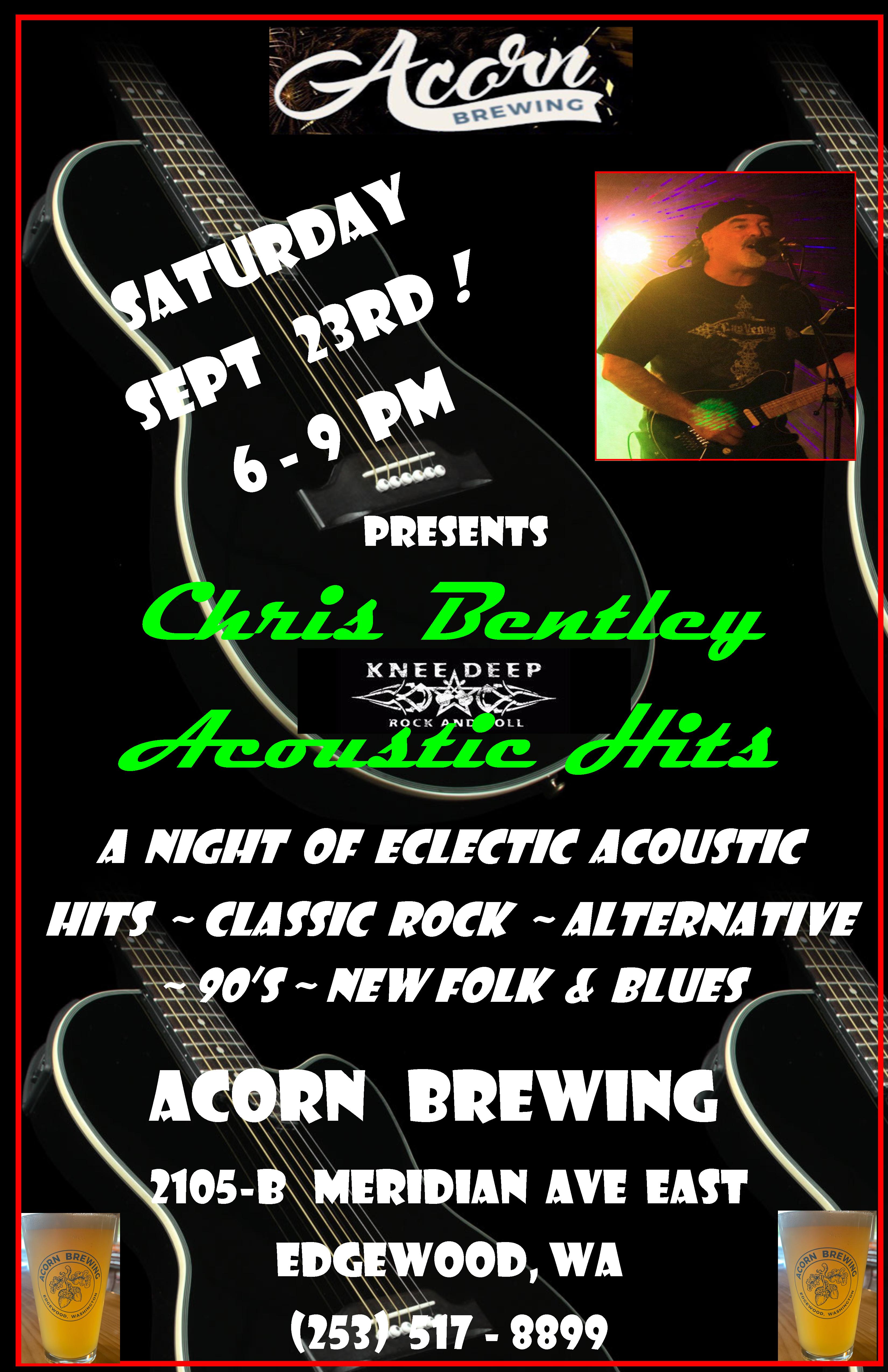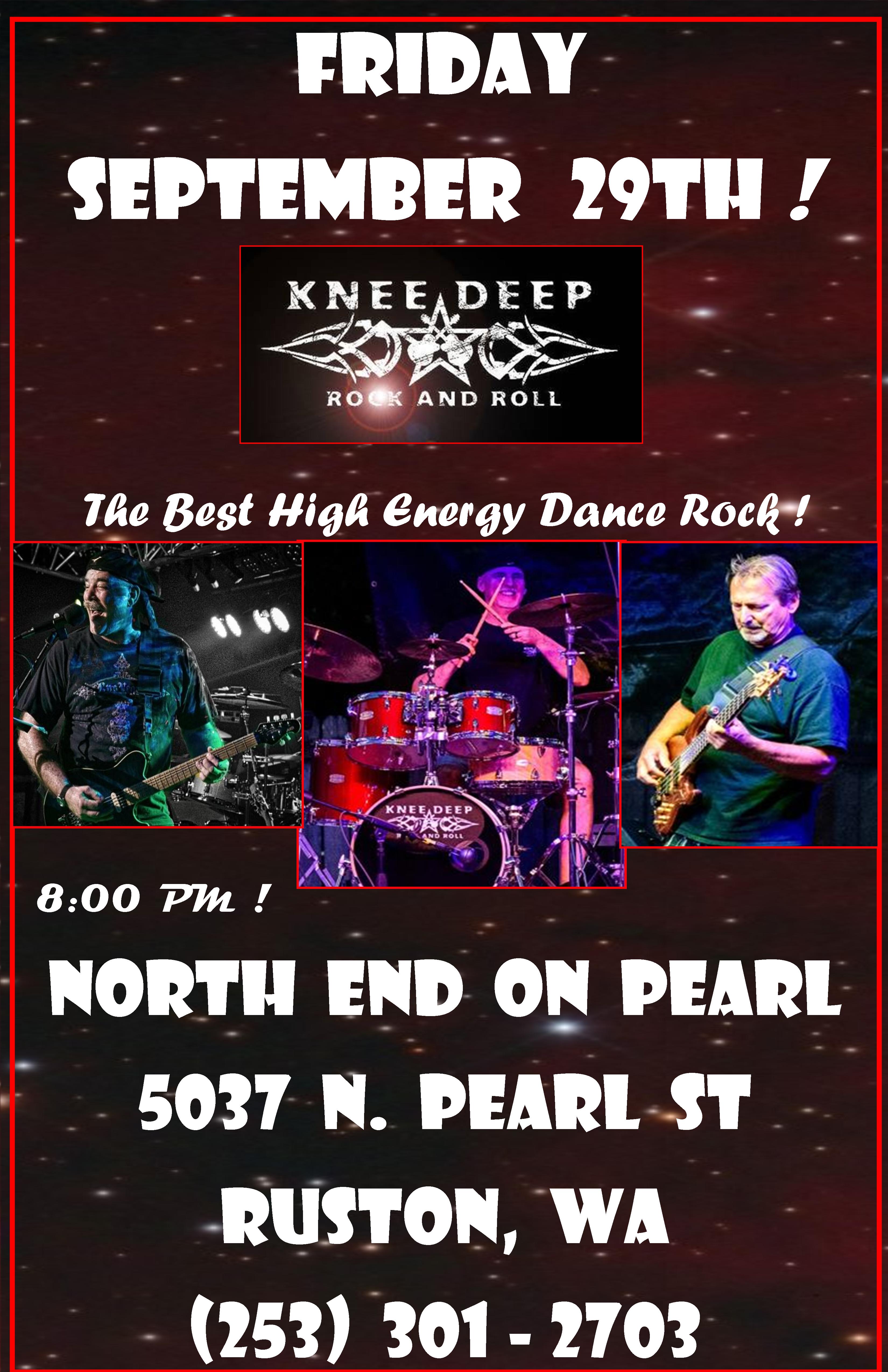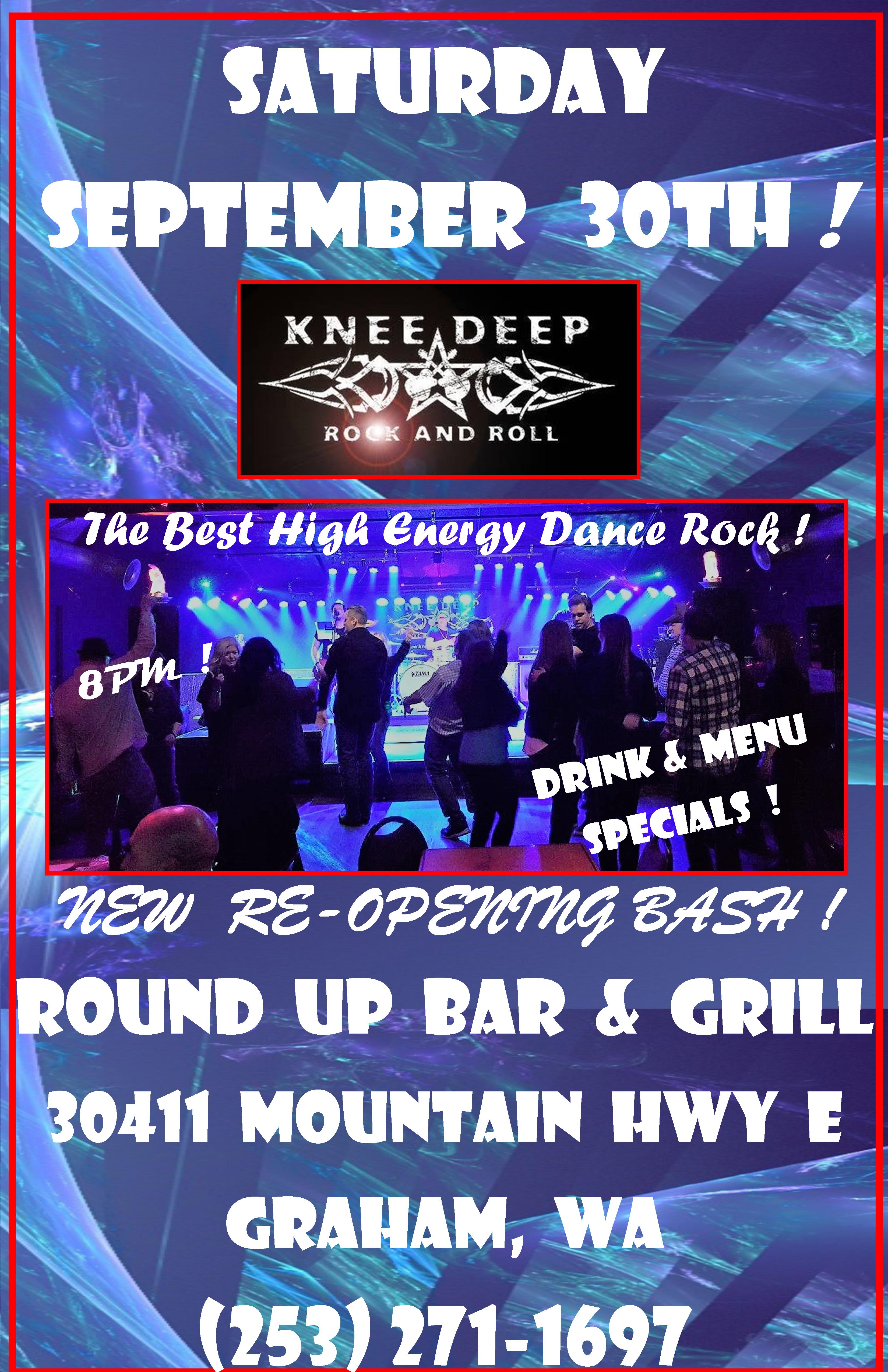 - 2023 Is Our 18th Year ! -
Show Schedule Coming Soon 
------2022 Schedule------
2/12 Saturday - The Chalet Puyallup
2/26 Saturday - Casey's in Kent
3/12 Saturday - JP's Barroom in Renton
3/19 Saturday - The Chalet in Puyallup
3/26 Saturday - Bethel Saloon Port Orchard
4/15 Friday - Ocean 5 Gig Harbor
4/23 Saturday - The Chalet Puyallup
4/30 Saturday - Muckleshoot Casino Club Galaxy
5/14 Saturday - Acorn Brewery
5/19 Thursday - Yella Beak Thunder Thursday
5/21 Saturday - The Chalet Puyallup
6/3 Friday - Off Camber Brewery
6/9 Thursday - Yella Beak Thunder Thursday
6/17 Friday - Puyallup Meeker's Festival
6/18 - Saturday - The Chalet Puyallup
6/25 Saturday - Acorn Brewery
7/2 Saturday - Bethel Saloon Port Orchard
7/8 Friday - Acorn Brewery
7/9 Saturday - Wedding Reception Graham
7/15 Friday - Off Camber Brewery
7/21 Thursday - Yella Beak Thunder Thursday
7/23 Saturday - The Chalet Puyallup
8/6 Saturday - Bethel Saloon Port Orchard
8/11 Thursday - Yella Beak Thunder Thursday
8/12 Friday - Off Camber Brewery
8/20 Saturday - The Chalet Puyallup
9/2 Friday - Off Camber Brewery
9/3 Saturday - Camp Lakeview Outdoor Fest
9/8 Thursday - Yella Beak Thunder Thursday
9/10 Saturday - The Garage Bremerton
9/17 Saturday - Birthday Party Graham
9/23 Friday - Binford Car Show Kent
9/24 Saturday - The Chalet Puyallup
10/1 Saturday - Bethel Saloon
10/22 Saturday - El Guerro Kirkland
10/29 Saturday - El Guerro Kirkland
11/19 Saturday - Whiskey Mile Kirkland
------2021 Schedule------
6/26 Saturday - Binford Field of Dreams Car Show Kent
7/24 Saturday - The L&M Firehouse Orting 7pm
7/31 Saturday - The Chalet in Puyallup 8:30
8/13 Friday - Binford Field of Dreams Car Show Kent
8/14 Saturday - Puyallup Meeker Days (Headliner Show 5-7pm)
8/28 Saturday - The Chalet in Puyallup 8:30
Sunday 9/5 - Mary Bridge Labor Day Car Show Yelm
9/11 Saturday - JP's Barroom Renton 9pm
9/17 Friday - Acorn Brewery Edgewood 6pm
9/18 Saturday - L&M Firehouse Orting 7pm
10/9 Saturday - The Chalet in Puyallup 8:30
10/16 Saturday - Bethel Saloon Kitsap 8pm
Saturday 10/23 - L&M Firehouse Orting 7pm
Fri & Sat 10/29-10/30 Jersey's Halloween Party Fed Way
11/6 Saturday - JP's Barroom Renton 9pm
11/13 Saturday - The Chalet in Puyallup 8:30
12/11 Saturday - The Chalet in Puyallup 8:30
Saturday 12/18 - L&M Firehouse Orting 7pm
Friday 12/31 - New Year's Eve Party - The Chalet Puyallup
------2020 Schedule------
1/11 Saturday - The Chalet in Puyallup 8:00 pm
1/25 Saturday - Nikki's in Covington 8:30 pm
1/31 Friday - The Royal Bear in Auburn 9:00 pm
2/7 Friday - Draft Choice in Auburn
2/14 Friday - Northend on Pearl in Rustin (Tacoma)
2/22 Saturday - Elmers Pub in Burien
2/29 Saturday - Nikki's in Covington 8;30 pm
3/14 Saturday - The Chalet in Puyallup 8:00 pm
3/20 Friday - Draft Choice in Auburn 
4/4 Saturday - Nikki's in Covington 8:30 pm
4/10 Friday - Northend on Pearl in Rustin (Tacoma)
5/2 Saturday - Elmers Pub in Burien
5/9 Saturday - The Chalet in Puyallup 8:00 pm
5/16 Saturday - Nikki's in Covington 8:30 pm
5/29 Friday - Northend on Pearl in Rustin (Tacoma)
6/13 Saturday - Nikki's in Covington 8:30 pm
6/19 Friday - Northend on Pearl in Rustin (Tacoma)
6/26 Friday - Draft Choice in Auburn
7/11 Saturday - The Chalet in Puyallup 8:00 pm
7/25 Saturday - Elmers Pub in Burien 
Aug - Dec Covid Lock Down (18 shows cancelled)
 
------2019 Schedule------

1/19 Saturday - Nikki's in Covington
2/2 Saturday - Schafer's in Sumner 
2/9 Saturday - Oxford Saloon Snohomish
2/23 Saturday - Nikki's in Covington
3/1 Friday - Elmer's in Burien
3/9 Saturday - Collector's Choice Snohomish
3/16 Saturday - Des Moines Yacht Club 
3/23 Saturday - Oxford Saloon Snohomish
3/30 Saturday - Nikki's in Covington
4/13 Saturday - Royal Bear Auburn  
4/20 Saturday - Collector's Choice Snohomish
5/4 Saturday - Nikki's in Covington
5/18 Saturday - Oxford Saloon Snohomish
6/1 Saturday - Elmer's in Burien
6/8 Saturday - Nikki's in Covington
6/22 Saturday - Oxford Saloon Snohomish
7/6 Saturday - Collector's Choice Snohomish
7/13 Saturday - Nikki's in Covington
8/3 Saturday - The Chalet in Puyallup
8/17 Saturday - Elmer's in Burien
8/31 Saturday - Nikki's in Covington
9/14 Saturday - Elmer's in Burien
10/5 Saturday - Nikki's in Covington
10/19 Saturday - The Chalet in Puyallup
11/9 Saturday - The Chalet in Puyallup
11/23 Saturday - Nikki's in Covington
11/29 Friday - Draft Choice in Auburn
12/7 Saturday - Elmer's in Burien
12/28 Saturday - Nikki's in Covington


-----2018 Schedule------
1/12 Friday - Royal Bear in Auburn T3 Reunion Show
2/3 Saturday - Village Taphouse (Wild Hare) Marysville
2/10 Saturday - Nikki's in Covington
2/16 Friday - Elmer's Pub in Burien
3/3 Saturday - Cliffhanger's in Lynnwood
3/10 Saturday - Oxford Saloon Snohomish 8:30
3/24 Saturday - Nikki's in Covington
3/30 Friday - White Center Eagles  7pm-11
4/7 Saturday - Village Taphouse (Wild Hare) Marysville
4/28 Saturday - Nikki's in Covington
5/5 Saturday - The Sandbar - Brown's Point Tacoma
5/19 Saturday - Stockton's in Maple Valley
5/26 Saturday - Oxford Saloon Snohomish 8:30
6/2 Saturday - Collector's Choice Snohomish
6/8 Friday - Royal Bear in Auburn
6/16 Saturday - Cliffhanger's Lynnwood
6/23 Saturday - Nikki's in Covington
6/29 Friday - Elmer's in Burien
7/14 Saturday - Oxford Saloon Snohomish 8:30
7/21 Saturday - Stockton's in Maple Valley
7/28 Saturday - Collector's Choice Snohomish 8pm
8/11 Saturday - Peabo's in Mill Creek
8/18 Saturday - Village Taphouse (Wild Hare) Marysville
8/25 Saturday - Nikki's in Covington 8:30
9/1 Saturday - Longbranch Improvement Club
9/8 Saturday - Elmer's in Burien
9/22 Saturday - Collector's Choice Snohomish 8pm
9/29 Saturday - Nikki's in Covington
10/5 Friday - Billy McHale's Federal Way
10/6 Saturday - Oxford Saloon Snohomish 8:30
10/20 Saturday - Village Taphouse (Wild Hare) Marysville
10/27 Saturday - Open for Halloween Party !
11/10 Saturday - Nikki's in Covingtom
11/16 Friday - Billy McHale's Federal Way
12/1 Saturday - Elmer's in Burien
12/8 Saturday - Collector's Choice Snohomish 8pm
12/15 Saturday - Nikki's in Covington
12/22 Saturday - Village Taphouse (Wild Hare) Marysville
12/29 Saturday - Oxford Saloon - Knee Deep T3 Reunion Show 8:30 
 
------2017 Schedule------
1/20 Friday - Draft Choice - Auburn - 8 pm
1/28 Saturday - Elmers Pub in Burien
2/4 Saturday - Oxford Saloon - Snohomish
2/10 Friday - Elmers Pub in Burien  
2/11 Saturday - Private Party
2/17 - 2/18 Black Out 
2/24 Friday - Corp Party
2/25 Saturday - Raging River Saloon - Fall City
3/3 Friday - The Royal Bear - Auburn 
3/10 Friday - Draft Choice - Auburn - 8 pm
3/25 Saturday - OxFord Saloon - Snohomish
2 Nights !  4/7-4/8  The Cedar Stump - Arlington
4/14 Friday - Williams Ave Pub - Renton
4/21 & 4/22 - TBA Event
4/29 Saturday - Collector's Choice - Snohomish 8 pm
5/5 Friday - Corp Party
5/20 Saturday - Elmer's in Burien
5/26 Friday - Draft Choice - 9 pm
6/3 Saturday - Cliffhangar's - Lynnwood
6/10 Saturday - Bubba's Roadhouse - Sultan
6/17 Saturday - Peabo's - Millcreek
2 Nights !  6/23-6/24 -The Cedar Stump - Arlington
         7/8 Saturday - Royal Bear - Auburn
7/14 Friday - Draft Choice - Auburn - 9pm
7/22 Saturday - Oxford Saloon - Snohomish
7/29 Saturday - Manchester Pub - Kitsap - 8 pm  
2 Nights ! 8/4-8/5 - The Cedar Stump Arlington    
8/26 Saturday - Collector's Choice - Snohomish - 8 pm
  9/2 Saturday - Longbranch Event -  Longbranch, WA
9/16 Saturday - Elmer's in Burien
9/23 Saturday - Nikki's in Covington 
9/29 Friday - Royal Bear in Auburn 
10/7 Saturday - Raging River Saloon - Fall City 
         10/14 Saturday - Oxford Saloon - Snohomish1
10/21 Saturday - Collector's Choice - Snohomish - 8 pm
10/28 Saturday - Private Party Tacoma Marina
11/3 Friday - Royal Bear in Auburn
11/11 Saturday - The SandBar in Tacoma 8 pm
           11/25 Saturday - Oxford Saloon - Snohomish             
              12/2 Saturday - Elmer's in Burien                     
12/31 Sunday - NYE Bash ! Oxford Saloon - Snohomish


------2016 Schedule------
1/29 Friday - Royal Bear in Auburn
3/11 Friday - Red Dog Saloon Maple Valley
4/1 - 4/2 Private Weekend Event 
4/22 Friday - Red Dog Saloon - Maple Valley
5/13 Friday - Open Date 
5/20 Friday - Elmer's Pub - Burien
5/27 Friday - Williams Ave Pub - Renton
6/3 Friday - Royal Bear - Auburn
7/16 Saturday - Oxford Saloon - Snohomish
7/22 Friday - Draft Choice - Auburn
8/12 Friday - Elmer's Pub - Burien
8/13 Saturday - Lake Wilderness Golf Club - Maple Valley
9/9 Friday - Royal Bear in Auburn
9/10 Saturday - Wild Hare - Marysville / Plaza
9/16 Friday - Draft Choice - Auburn
10/1 Saturday - Twin Dragon - Duvall
10/8 Saturday - Oxford Saloon - Snohomish
10/22 Saturday - Stockton's in Maple Valley 8pm
10/29 Saturday - Halloween Bash - Bud's in Milton
11/4 Friday - Draft Choice - Auburn
11/12 Sat - Elmer's in Burien
11/19 Sat - Lost Dutchman - Maple Valley
12/30 Friday - Williams Ave Pub - Renton
12/31 Saturday - New Year's Eve Party - Bud's in Milton

Stay Tuned for More Shows 

------2015 Schedule------
1/10 Scotty's Pub & Grub - Puyallup
1/16 The Royal Bear - Auburn
1/24 Raging River Café - Falls City
1/30 Red Dog Saloon - Maple Valley
2/6 JP's Williams Ave Pub - Renton
2/21 Oxford Saloon - Snohomish
2/27 Yuppie Tavern - Kirkland
3/7 Raging River Café - Falls City
3/13  Yuppie Tavern - Kirkland
4/10 JP's Williams Ave Pub - Renton
4/18 Raging River Cafe - Falls City
4/24 Draft Choice Sports Bar - Auburn
5/1 Red Dog Saloon - Maple Valley
5/8 The Royal Bear - Auburn
6/6 Pickled Onion Pub - Renton 
6/13 Yuppie Tavern - Kirkland 
6/19 Red Dog Saloon - Maple Valley
7/24 Hangar 205 - Renton
8/15 Royal Bear - Auburn
8/21 Draft Choice - Auburn
8/22 Oxford Saloon - Snohomish
8/28 Rocko's Pub - Lynnwood
9/5 Royal Bear - Auburn
9/12 - Yuppie Tavern - Kirkland
9/18 Red Dog Saloon - Maple Valley
9/25 Draft Choice - Auburn
9/26 Flights Pub - Everett - 90's Tribute Show 
10/3 Stockton's - Maple Valley
10/9 Williams Ave Pub - Renton
10/23 Draft Choice - Auburn
11/6 Yuppie Tavern - Kirkland 
11/13 Draft Choice - Auburn
11/21 Red Dog Saloon - Maple Valley
12/5 Oxford Saloon - Snohomish
12/26 The Royal Bear - Auburn - Xmas Rock Show with Band Unloaded 

------Fall Schedule 2014------
9/6 Oxford Saloon - Snohomish
9/12 World of Beer - Renton
9/26 One Eyed Jack's Roadhouse - Lynnwood
10/4 Scotty's Pub & Grub - Sumner
10/10 Williams Ave Pub - Renton
10/17 Pickled Onion Pub - Renton
10/25 Raging River Café - Falls City
10/31 Red Dog Saloon - Maple Valley
11/7 Rocko's Fireside Pub - Everett
11/21 Sam's Sports Bar - Kent
12/6 Oxford Saloon - Snohomish
12/12 Pickled Onion Pub - Renton
12/19 Red Dog Saloon - Maple Valley